Birds: Keep Kids From Being Pecked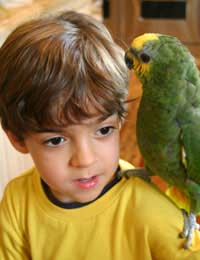 While members of the beautiful bird family are rather delicate and fragile creatures there is definitely one part of their bodies that is nothing of the kind: the beak. A bird's beak is exceptionally strong (ask anyone who's ever been bitten!) and no owner enjoys being at the receiving end of a peck, least of all sensitive skinned young children. But in order to prevent kids from being pecked, parents need to understand why birds do what they do in the first place.
So, Why Do Birds Peck?
The beak is not just a bird's most valuable tool; it's also a defence mechanism. Most of the time birds don't just bite for no reason, but for a cause that may not be easy to see at first. Most kids get pecked because they have inadvertently made their pet afraid, whether they accidentally cornered the bird, made rapid hand gestures that were interpreted as threatening or spoke in a voice that seemed aggressive. Besides fear based reasons, here are some other causes of biting in birds:
Territorialism about mate, cage or person
Dominance issues
Lack of attention
Breeding season/moulting/sexual maturity
Illness
Nibbling habit that wasn't trained out of a young bird
I'm Afraid: Bird Body Language
Teaching kids to watch bird body language is an important step towards peck prevention. Often a bird is trying to tell a child that now is not the time for interaction but, unfortunately, those signals are being missed or misread. Kids should look out for:
Fluffed feathers
Head bent
Small pupils of eyes
Lunging towards you
Loud beak clacking
Staying absolutely still, then suddenly moving
Bothering birds that are napping or eating is a prime time to get pecked, so talk to kids about leaving birds alone at these times as well.
The Pecking Order
Like dogs, birds have a strong sense of social structure or 'pecking order'. Unfortunately, if kids are not considered members of equal or higher standing to the bird, it may literally result in a pecking order when your pet bird starts using its beak to your child to show who's boss. This can also happen when a bird becomes jealous of another family member or has decided a person is now its 'mate'. If this happens, the bird's position needs to be re-established. Keep an aggressive bird at chest level or below, these birds shouldn't be given the top position of head or shoulder level perches until they have been retrained. This will also keep a pecking bird away from sensitive facial areas. Have the child or person who was pecked give a treat reward for good behaviour whenever the bird behaves around them.
What's Your Reaction?
When someone is pecked, the first reaction is probably a shrill yell or shriek, especially if it's a child. Maybe a bit of hopping back and forth while shaking the wounded area? Unfortunately, your bird may be misinterpreting your reaction and think this is a fun game to you. High pitched, shrill noises are bird expressions of excitement; your bird may think you are saying the equivalent of, "Good one, you got me!" Obviously, it's a little difficult not to shout out when being pecked, but try to react as little as possible. Instead, convey what you are truly trying to say by looking your bird in the face, frowning and saying "That hurt" in a low, disappointed voice. Birds are good readers of facial expressions and tones of voice, your bird will quickly get the picture you aren't pleased. Some other ways to humanely convey displeasure are:
Timeouts in the cage
Have the bird do a series of step ups, the bird version of issuing push ups to people for acting out!
Gently hold the beak and say 'no biting' in a firm, calm tone
Blow lightly in the bird's face and say 'NO'.
Slightly unbalance your bird by dropping your arm a little or moving
After saying no, redirect your bird's pecking by giving a chew or something else to bite on
Nibbling can progress into pecking, so don't allow your bird to start down this path. While kids are handling birds, it's best not to wear overly bright colours, sparkly or shiny nail polish, and jewellery that flashes as this can over stimulate a bird, causing it to bite in excitement.
You might also like...