Tips For Making Your Dog Feel at Home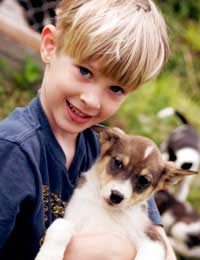 So you've decided to bring a canine companion into your family. Well, here are some of the essentials you'll need to provide your pet to make your dog feel like one of the pack.
Food and Water Bowls
Remember to work with the physical needs of your dog when deciding on dishes for food and water. Dogs with short snouts work best with shallow bowls, while dogs with long noses can have deeper dishes. Cropped ears making drinking water easy, but dogs with long, floppy ears tend to get these dunked in their water dishes so it's best to choose a narrow bowl with sides that accommodate their faces without having their ears fall into the food. Some dogs also have allergies to plastic so glass, ceramic or stainless steel bowls that are difficult to tip over work best for most pets.
Dog Beds and Crates
Like their wild ancestors, dogs love to have a den to retreat to for some privacy and nap time. With kids in the house, it's especially important for dogs to have a place that is 'off limits' to go for some quiet time whenever it's needed, so teach kids to respect your dog's need for this private space for both the happiness of your pet and the safety of your children.
Whether you opt for a dog bed or a crate, you'll want something that fits your dog snugly as dogs find this den-like element very soothing. The benefit of using a crate as opposed to a bed is that your dog will already be comfortable in a crate, which is beneficial when house training, during visits from those afraid of dogs, travelling and other times when crates are helpful.
Keep in mind the breed needs of your dog when setting aside a resting spot. For example, long haired dogs with heavy coats are going to sleep best in the cooler parts of the house and tend to like sheets for beddings as this releases heat while short haired dogs from hotter climes will need a resting spot in one of the warmer areas and prefer thicker, fleecier blankets that retain heat for bedding.
Toys
There is a wide array of canine playthings so watch to see which ones your dog most strongly responds to. While balls are a pretty safe bet for any dog, the breed of your dog can have a big influence on what your pet most likes to play with. Working dogs may enjoy toys that bring out their herding instinct, while dogs with strong jowls are going to like a hardy toy with the ability to sustain heavy chewing. Pick toys that work with your pet's personality quirks to get your dog all worked up and try to rotate them in and out of use to give him variety and change.
A Place to Poo!
Give your dog a bathroom spot that's easily accessible, preferably in a quiet part of your house or out in the garden where there is a bit of privacy. When training puppies not to wee in the house, accessibility is especially important. If it's possible in your home, providing your pet with outdoor access to the yard with a doggie door is the best way to go, but make sure that your garden is securely fenced off and that there are no poisonous plants or hazards to your dog.
The best way to make your dog feel at home, though, is to give him lots and lots of love and affection!
You might also like...