Foods That Aren't Pet Friendly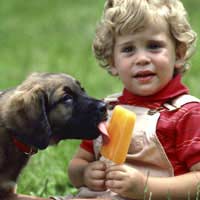 People love to give bits of their tasty human foods to pleading pets that pour on the adorable charm during mealtimes. But what pets want isn't always what's good for them; many human foods have a negative and sometimes deadly effect on a pet's system. Kids are especially susceptible to the cuteness factor and will happily share their meals and snacks with pets; totally unaware of the dire consequences this may have for their beloved furry, feathered or scaly friend.
Foods That Are Downright Dangerous
The following is a list of foods to keep under wraps around pets, which have effects on animals that include possible fatalities.
Chocolate has a chemical called theobromine which dogs are particularly susceptible to, although it's not a good idea to give chocolate to any animal. Dark chocolate and cocoa are the most toxic, while milk chocolate contains less than half the theobromine that dark chocolate does. It's very important to stress the dangerous effects of chocolate on pets to children, as chocolate is the ultimate treat to many kids and they might inadvertently harm their pets.
Avocado is dangerous, sometimes fatal, to most species of bird, especially those from Africa. Rabbits and mice are also vulnerable.
Potatoes (especially ones that are sprouting or germinating) and tomatoes, including the plants, leaves and stems, contain a toxin called solanine which cause severe gastrointestinal problems.

Raw sweet potato can form cyanide in the stomach.
Guinea pigs are naturally lactose intolerant so feeding them dairy can cause severe problems.
Yeast dough can expand in the stomach and cause rupturing. Never feed yeast dough to any pet.
Macadamia nuts contain an unknown toxin, which can affect the digestive and nervous systems and muscle. Dogs are particularly susceptible.
Licorice causes neurological poisoning in rats.
Caffeine can cause heart failure in pets.
Grapes and raisins contain an unknown toxin that can generate kidney problems in cats and dogs.
The little bodies of animals have a hard time procession ethanol, a component in alcohol, and birds are unable to process it at all. Toxicity depends on amounts but alcohol can cause death in excess.
Foods That Cause Damage Over Time
These are a list of foods to avoid giving your pet as they will cause health conditions if fed repeatedly. If an animal happens upon some of these substances once or twice, there is no cause for alarm, however.
Feeding pets foods that are high in sugar or salt can eventually lead to weight problems, diabetes, dental issues, electrolyte imbalances and other health dysfunctions. Sweets are another kid favourite for pet feeding so chat with your child about what kind of side effects happen when sweets are given to a pet.
Onions and garlic have sulfoxides and disulfides which cause anemia, affecting cats quite severely and dogs to a lesser degree. Onions are more toxic to your pet than garlic.
Pockets pets have particular intolerances to rhubarb, which have oxalates in them. These negatively affect your pet's urinary, digestive and nervous systems.
Uncooked beans attack much needed vitamin A and can cause red blood cell clumping in small animals. Raw artichokes, red cabbage and Brussels sprouts also cause problems with nutrient absorption.
Many animals are lactose intolerant so avoid giving milk products to pets unless they have been raised consuming them.
Iceberg lettuce can cause calcium absorption problems in rabbits and is hard on the hamster's liver when fed in excess.
Raw eggs can cause salmonella and impedes vitamin B absorption, affecting the condition of your pet's skin and fur.
It's also a good idea to avoid feeding your pet fatty foods, fried foods and anything that has bones in it.
You might also like...