Obedience Training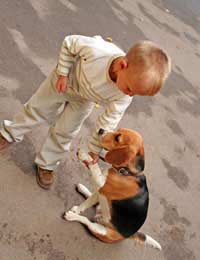 Yes it's true. Like humans, dogs need to go to school too. If your kids aren't big fans of school, maybe this will make them feel better. Puppies can start the obedience training process at as young as 3-6 months of age, in fact dogs benefit greatly from an early start. Conversely, it's never too late to put your dog through obedience school, despite the saying "You can't teach an old dog new tricks!"
Why Does My Canine Need Training, Anyway?
Obedience training is a crucial part of your dog's socialisation since dogs are pack animals and leadership roles are very significant to them. If you don't assume a leadership role then your dog feels like it has to and houses run by dogs tend to be noisy, chaotic ones. Training is also necessary to your dog's safety in suburban areas, prevents bad behaviours from forming and teaches your pet to listen and respond, making your household an easier place to live.
Getting Kids Involved in Training
In households with children, obedience training is especially important to the safety of the kids and the happiness of the dog. It's best if your child comes to classes with you and participates in training your dog. That way, the dog learns to accept the child in a leadership role as well. Otherwise, the dog will become pushy and try to bully your child, ignore commands and become unmanageable. Explain to your child that, as strange as it may sound, dogs need to feel like humans are the leaders and that their dog will love and respect them more when kids take command. Let your kid know that obedience training also involves teaching your dog some fun tricks and you'll have an enthusiastic participant.
Choosing a School
Talk to your vet, breeder, local shelters or friends and ask them to make some recommendations for a good obedience school. Where you take your puppy for training will have a strong impact on your dog's character and future development, so just any old obedience class will not do. If a trainer ever uses forceful methods that make you feel uncomfortable or hurts the dogs to get them to obey, find a new place to train. Getting a dog to obey is not about fear and pain but about using tone of voice to show authority, any obedience school that uses pain to train clearly doesn't understand dog psychology. It's a good idea to ask questions like what the trainer does when your dog won't obey, what happens if you're not satisfied with the process, will they give you post-obedience school advice and (most importantly) can you sit in on a class and watch. A good trainer should have no problem answering any of these questions or having you check out the class first.
Different Breeds Learn in Different Ways
Don't be frustrated if your dog seems to be progressing slowly while your neighbour's dog picked everything up with ease. Breed has a great effect on the ability to take instruction and a 'Sporting' dog breed that has descended from generations of dogs who have been heavily trained to respond to human commands will accept training more readily than a 'Working' dog which has been trained to be independent and think for itself. Temperament also has a huge influence on learning. If your dog is hyper and excitable, the distractions of a class filled with other dogs and people may be too difficult a learning environment and you may need to use a private trainer, training videos or books instead.
Don't be discouraged and stay consistent in your efforts to train your dog. Obedience training has such an excellent influence on your dog's behaviour and nature that you'll find the time and work repaid a hundredfold in the end.
You might also like...