Why Pets Shouldn't Be Fed at the Table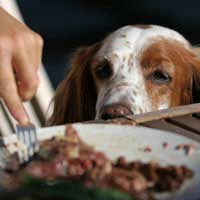 The full powers of pet persuasion come out when your family sits down at the dinner table. Suddenly big eyes become twice as large the cuteness factor is upped a notch and you are aware of every bite you put in your mouth that isn't going to your pet.
Dog Dominance Issues Which Stem from Table Feeding
As strange as it may seem, feeding a dog at the table with humans can directly contribute to the development of dangerous dog behaviours like growling, biting, food guarding and lack of obedience to commands. Why is this? Because food has a very important role in the mind of the dog when it comes to pack standing. Pack leaders get first pick of food and all the choicest tidbits, lower pack members need to wait until the top dogs are finished before they can eat. When you hand feed your dog from the table, you are pushing his rank up and showing him that he's more important than other family members…and possibly yourself as well. This is an especially important aspect of dog psychology to teach children, as they are the ones that will fall below the dog in pack ranking by feeding from the table. And if your child is below your dog in his mind's eye, the child becomes vulnerable to dog dominance tactics like guarding, herding, snapping, biting and other forms of bullying which can be hazardous or scary to children. This is why it is important not just to refrain from table feeding, but to actually feed your dog AFTER the family has eaten.
Table Scraps and Pet Obesity
Humans just don't have the same dietary requirements as their pets and studies have shown that the upsurge in pet obesity is largely due to table feeding and too many treats. Many of the fats and oils that we consume can lead to pancreatitis as well as obesity in our pets. Carbohydrates can create a very fat cat as their carnivore-based metabolisms are unable to process wheats and grains the same way we do. Pet food is scientifically measured and balanced to give your pets what they need in the way of nutrients, and unless you've carefully researched what it is you're giving to your animals in your table scraps, human food just doesn't add up to being nutritionally satisfying to pets.
Hazardous Human Food
Many foods that we consume with gusto can cause serious trauma inside the belly of your pets. Chocolate, onions, garlic and mushrooms are just a few on the extensive list of human food that bring problems to pets that range from indigestion to illness to possible fatalities in an animal, depending on what it is and what quantities are fed. Yet another reason to abstain from table feeding.
Once a Beggar, Always a Beggar
When it comes to food, pets have very, very, VERY long memories. And once you've given into begging behaviours, pets expect food at the table from then on. This can be uncomfortable or embarrassing when guests are over and your pets start hounding them for food, or when you are in the mood to simply eat in peace without any begging, whining, pawing, jumping up at the table and other forms of pet beggary.
It may be hard to keep such a long view of things in mind when your pets are staring up at you with that adorable look on their faces, but stay strong and resist the impulse to table feed. You'll be doing your pets a favour in the long run.
You might also like...