My Dog Was Attacked by Another - What Can I Do?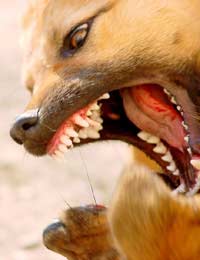 Q.
I have 2 rottweilers, very well trained, excellent temperaments true family pets. Recently my dog was attacked in our garden through the garden gate by what I could only describe as a Pitt Bull cross or true pitt bull. It took my husband the dog's owner & myself to get this dog off ours.
The dog was not on any kind of lead, no muzzle and the owner has admitted that the dog is fine with humans but aggressive towards other dogs & has claimed full responsibility for the attack.
My dog was being assessed for being a pat dog this month and he has no chance of doing that now because the attack has left him scared mentally & physically.
I feel so angry that this idiot walking around the streets with a dog of that disposition is basically getting away with it and my dog has changed so much since the attack. I'm scared for him. What can I do?
(Mrs Tricia Adams, 18 September 2008)
A.
Dogs respond to being attacked by other dogs in different ways, depending on their own temperament and past experiences. If you are very, very lucky, your dog may simply shrug the incident off as no more than a nasty experience and may not behave significantly differently in the future. Unfortunately, more often than not, however, many dogs will develop either fear or defensive aggression following a traumatic attack – or at the very least, become much more nervous and anxious, and quicker to react to perceived threats.
It is crucial, if your dog has been involved in a serious incident and seems to have been adversely affected, to seek the services of a qualified, reputable canine behaviourist who will be able to assess your dog and develop a rehabilitation programme suited to his individual temperament and your lifestyle. Visit the website of the Association of Pet Behaviour Counsellors for more information (www.apbc.org.uk) or ask your veterinarian for a referral. Other good sources for reputable behaviourists and dog trainers are the Association of Pet Dog Trainers (APDT) - www.apdt.co.uk - and the UK Registry of Canine Behaviourists (www.ukrcb.org).
This will also help you feel more in control of the situation and feel better that you are taking positive steps to try and rectify any damage done – and your attitude and mood can have a huge impact on your dog's behaviour, without you even realising it. Dogs rely heavily on body language and are always picking up cues which we may not even be conscious of giving. It is natural, following an attack, for example, for the owner to panic upon seeing another dog, perhaps to draw in a quick breath, tighten the leash, stiffen up – all these things will be picked up by the dog and will fuel its anxiety and tension even further. It is essential, therefore, that you work with an experienced behaviourist to modify not only your dog's behaviour but your own as well in order to help him succeed in overcoming the trauma of the attack.
The worst thing you can do is to hide at home with your dog, too terrified to go out in case you meet another dog or encounter a situation that your dog may find too stressful to deal with. This will simply cement your dog's negative attitudes and behaviour. It is essential to get your dog back out as soon as possible and to work on desensitising and building good associations with other dogs again and helping your dog build confidence again – but unless you are very experienced or qualified to undertake such a programme yourself, it is best to do this under the guidance of an experienced canine behaviourist or dog trainer.
With quick action and the right advice and guidance from a canine behaviour expert, it is possible to minimise any damage done to the dog's temperament and to enable the owner to manage the dog's behaviour so that it is able to participate in a range of activities again.
You might also like...
My large sheltie was attacked by a neighbor's husky/shepherd mix.He has a bad injury on the back of his neck that became abscessed.The doctor had him for two days with drains and IV antibiotics. He is a meek dog and because he was so stressed they had me take him home.Which is fine, I can treat the injuries locally myself. But the antibiotic they gave me is SMZ/TMP.From what I read this is best for urinary tract infections. Shouldn't it have been something for physical injuries?