Dog Responsibilities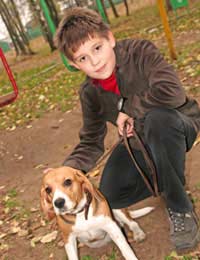 Dogs give so much love and affection to the families who care for them, but they also come with a lot of responsibility. These are some of the basics you'll need to cover with your pet.
Food and Water Dish Care
While your dog's standards of cleanliness may not be the same as a human's, it's in a dog's best interest to have clean dishes to eat and drink from. So wash out your pet's dishes with soap and water or put them in the dishwasher frequently, depending on how messy the eating habits of your pet and remove any old food or spilled water from the eating area.
Bathing, Grooming and Pest Control
If you've ever been in a car with a wet dog that's been at the beach all day or out in the rain, then you know just how dirty dogs can get without human intervention! In order to keep your pet looking and smelling good, with mat free fur and skin untroubled by fleas and ticks, you will either need to take your pet to a professional groomer or invest in grooming brushes, dog shampoos and conditioners, nail care products and a method of flea control. Weekly baths and brushings keep your pet's coat in good condition, plus the occasional emergency bath when your dog rolls in something stinky!
Exercise
Getting your dog out for daily walks is important for his physical health but can be just as crucial to the state of your shoes, furniture, etc. A bored, unhappy dog is a destructive dog, so ensuring your pet gets the exercise he needs is beneficial to everyone involved. Make a family dog walking schedule, go for outings to the beach or park, or simply walk around your neighbourhood to give your dog the walk he needs. Don't forget to be responsible about bringing something to clean up the messes he'll make, as well.
Playtime and Toys
Playing with your pet may not sound like a responsibility, but when you consider how much these moments mean to your dog, you'll see how important it is to make time for play. Dogs are pack animals and when you as the 'leader' spend time playing with him, it shows your pet you care about and have affection for him. Of course, most dogs will play all day if given the choice, so you'll have to keep your own timelines in mind but setting aside even a little bit of time each day for your pet will have a huge effect on how happy he is. Especially if your family is a busy one and none of you are home much, a few minutes of playtime can really make your pet's day. Toys also provide entertainment and distraction when you're not available to play, so make sure your dog has a good variety of safe, fun toys to play with.
Vets
Dogs need to see the vet for regular health checkups, shots, to get spayed or neutered, for dental care and to deal with any medical problems that arise. Finding a good vet in your area is essential to the wellbeing of your dog, so don't wait until an illness to find a vet for your pet. Ask around with friends, neighbours, at pet shops, obedience schools and animal shelters to find an honest, reputable vet with fair prices who can accommodate the financial needs of your family.
Training
Enrolling your dog into obedience school at as early an age as possible means a safer life for your pet and an easier, less frustrating relationship with your family. Dogs who have been through obedience school have a closer bond with the humans they undergo training with, which is another benefit to undergoing the responsibility of training your pet.
Dealing With Accidents
Potty training puppies and even full grown, housebroken dogs can sometimes have accidents in the house. When this happens, the scent of urine needs to be completely removed or your pet may form bad habits and repeat the process inside your home. But deal with the problem and remove the scent and the likelihood of a repeat incident is greatly lowered.
If your carpets have been urinated on, absorb as much of the mess with paper towels or newspapers as possible, gently dabbing at it to soak up everything you can. Next, apply cold water to the spot and absorb before finally applying a cleaning solution that is NOT ammonia based since ammonia is one of the components in urine. This method is the best way to eliminate underlying odours that can linger behind after even the most vigorous of cleaning attempts, causing frustration to dog owners when the incident is repeated in the same spot.
While dogs may take a lot of caring for, they give you an abundance of love in return and are more than worth the responsibilities of dog ownership.
You might also like...