Reptile Responsibilities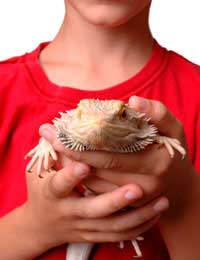 One of the reasons reptiles make good pets is the low level of maintenance and responsibility that comes with having a herp in your life, compared to having a mammal.
Cleanliness of your pet's environment is very important to your reptile's health however, reptiles get skin and bacteria infections easily in an unsanitary captive environment. So a good owner takes the small amount of responsibility that comes with reptile ownership seriously and gives their pet a clean, healthy environment to live in.
Daily Cleaning
Food and water dishes should be washed out with soap and hot water on a daily basis; make sure you thoroughly rinse them as residue on dishes can make your reptile ill very easily. Any leftover food needs to be removed from the cage after feedings before it begins to rot. Also, comb through the substrate with a scooper to get rid of any poo or areas that have been soaked with wee.
Weekly Cleaning
You'll need to put your pet into a spare cage or safe holding area while you do your weekly cleaning and disinfecting. Because reptiles, like birds, are so sensitive to the fumes from chemicals it's really a good idea to take your pet into another room while cleaning. Make sure your pet is going to be comfortable, warm and safe while you are doing your cleaning chores.
Wash off any organic matter with soap and water before starting the disinfecting process, otherwise it won't be as effective. Make a cleaning solution that is one cup of bleach to a gallon of water and use this to thoroughly disinfect the cage and also soak all the décor in it for at least 10-15 minutes. Take special care to rinse décor and items made from wood well and let them dry thoroughly before placing back into the cage since wood molds easily and also retains chemical cleaners.
Checking for Trouble
Any time you clean your pet's cage, keep an eye out for trouble spots or changes in your reptile's normal behaviour. Cleaning time is ideal for doing spot checks on the temperature in your pet's environment, safety checking heat sources for burn potential, keeping an eye out for uneaten food, unusual shedding, abnormal looking poo or other possible signs of sickness in your pet.
Vets and Medical Issues
A difficult aspect of having a reptile as a pet is that it's hard to find a vet who's knowledgeable about the inner workings of the reptile body and can interpret signs of illness correctly. So one of the most important responsibilities of reptile ownership is finding a suitable vet BEFORE your pet shows signs of illness, especially as it can often be tough to tell when a reptile is sick until the illness has become quite severe.
So talk with other reptile owners, breeders and enquire at local reptile associations to find a good herp vet in your area.
And remember, because of the risk of salmonella and other pathogens, always wash your hands well with soap and hot water after any cleaning of your pet's cage, accessories and food dishes, don't do any of your reptile's things in the kitchen or other food areas and wear gloves while cleaning and handling if you have any open cuts.
You might also like...