House Training Your Cat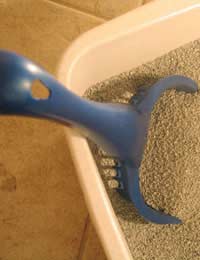 The process of house training your kitten will be a relatively short and easy unlike the lengthier house breaking of a puppy. Cats naturally want to use a litter box and most will take to it very quickly. If not, 9 times out of 10 it's a problem with the litter box that humans just haven't been able to perceive because they are not thinking like a cat. Here is how to establish the purr-fect bathroom spot for your kitten or cat.
The Basics of House Training
First, cover any indoor plant soil with decorative rocks, pine cones, etc to prevent confusion in your kitten's mind as this is the type of texture an outdoor cat would use as a bathroom. Place your kitten near the litter box and scratch around in the litter a little with your hands to get her interested. Then place her inside and let her investigate. Do not hold her paws and move them for her as this can scare her out of using the box. Anytime she sniffs the ground, circles or searches for a dark place, take her and place her into the litter box. If you catch her partway through weeing somewhere she shouldn't, make a noise to get her attention and stop the flow, then place her into the box. Don't shout or yell at your cat, this will only frighten her and cause her to think you find the act of elimination angering, which means she'll be sneakier about going in the house. When she uses the litter box, give her plenty of praise and the occasional treat at first to positively reinforce the box as a good place to go. Put her in the tray after meals, after naps and after play until you feel she has the hang of it.
The Litter Box
A litter box should be at least 16 by 22 inches. If she's a kitten, watch to see that the sides of the litter box are low enough for her to climb in with ease. There are covered litter boxes and uncovered, plus litter liners for easy cleanup. Your cat may object to liners or a covered box, so don't try to force the issue if she has objections. Liners should always be nice and tight so that your cat's claws don't get caught on them and the cover to a litter box should be wide and spacious, giving cats plenty of room to move around. Litter should be 2 to 4 inches deep and most cats prefer finer grains of litter. The more sand-like the texture, the better.
Keeping it Clean
Cats are very fastidious creatures, so if the litter box has gotten too dirty by her standards to be usable, she'll pick a better place to go. Like on the carpet behind your favourite chair! So regular changing and cleaning of litter is essential for your cat to be motivated to use the litter box. What's funny is that from her perspective, your carpet is the better choice if you clean it immediately and leave her a dirty litter box as an alternative. Make sure you don't clean the litter box with an ammonia based substance as this is an element in urine and smells like it's still dirty to your cat's sensitive nose.
Troubleshooting
Here are some things that often trouble cats about their litter box. Your cat will want somewhere private and quiet to do her business, an area without a lot of traffic. This spot should be nowhere near her food and water dishes, as this is offensive to the discriminating feline sense of cleanliness. Make sure your cat has unlimited access to this area and that it's easy to get to, no closed doors. Scented litter can be objectionable to a finicky feline, as can litter that is too large or chunky under their feet. How far away is it from her sleeping space, can she make it in time when she wakes up? Do the rims on the sides of the litter box slant inward or otherwise cramp her space? If something scary has happened to her in the litter box room like a loud noise or the giving of medication she may be averse to using it. Finally, if there's a place in your house she's peed that you are unaware of it may be drawing her to urinate outside the box. Black light is an easy way to determine if you've missed a spot.
If an adult cat stops using the litter box, this is often a symptom of a urinary disorder so take her to the vet immediately.
You might also like...