Is Your Child Ready to Walk the Dog?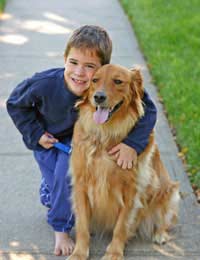 Walking the dog alone is a huge responsibility and as a good parent and pet owner you'll need to consider a number of factors before allowing solo walks to happen. Many parents, eager to have the responsibility of dog walking lifted from their shoulders, allow their children out alone too soon and end up paying the consequences. So take it slow and easy when deciding whether your child is ready to walk the dog.
Sometimes Size Does Matter
Generally speaking, children under 10 should not be walking the dog alone, although you can have them hold the leash while you accompany them. Too many things can happen while your dog is out walking for a child younger than 10 to be able to quickly decide what to do if danger arises. Also, the size of your dog and the size of your child is a huge factor in whether your child can perform dog walking alone. When a dog is larger than one fifth the size of your child, the weight ratio is too much to handle solo.
Getting Your Child Started
Begin teaching your child how to walk the dog by having them accompany you, explaining the purpose of commands like 'heel' and what tone of voice to use, how much pull you can put on a leash without hurting your dog, why cleaning up after your pet is so important and other aspects of dog walking. This is a wonderful parent-child bonding experience, a nice way for both of you to get exercise and helps deepen the connection between kids and their dogs as well. Once you feel that what you've said has sunk in, you can begin to allow your child to hold the leash while you are in deserted areas as a training guide to solo dog walking. It's important to the safety of your dog and your child that this only happen in deserted areas as traffic and other dogs can be dangerous to both when inexperienced.
Kids and Obedience Training
Your dog should have some sort of obedience schooling before allowing your child to walk him alone. The dog needs to respond to the commands of your child so test runs with your child issuing commands is important. Watch your dog to see if it's pulling on the leash, dragging your child or not responding to commands. If any of these are happening, you'll need to take your child and dog to obedience school so your dog learns to respect your child. Obedience training is as much about teaching the owner how to get the dog to listen to them as it is about training the dog itself, so even if this is a refresher course for your dog it will help your child's confidence levels immensely.
Dealing with Common Dog Walking Issues
Kids should be well aware of the responsibilities that come with dog walking and also how to deal with possible problem situations like dog fights before being allowed out alone. Talk to children about the fines that come with leaving dog poo on the ground, calculating out how many weeks of allowance it would take them to pay it off is a great way to drive the message home. Explain what a yucky feeling it is to put a bare foot or hand in dog poo and (after the fits of giggles have died down) have them visualise themselves stepping in something another owner has left behind and get them to tell you how it makes them feel. Explain what to do if a dog fight occurs and how kids should never try to break up a dog fight with bare hands as they can be easily bitten. You'll also need to cover some of the 'birds and bees' issues as dog romances happen frequently in public places!
Once you are completely satisfied, it's time to let your child go out alone. Make sure they are well prepared with all the accessories they will need and let them know they should tell you if they are finding the responsibility too much. Then sit back, relax and enjoy the lifting of a responsibility from your shoulders.
You might also like...
Hi I'm Hamish I'm 10 years old I want to do dog walking to save up to spend time with my family in Australia I like dogs I had animals my whole life I have a pet Pitbull named mahly
Bob
- 29-Jul-23 @ 10:24 AM
Hi,my name is Mario and I am looking for a job to do with dog walking,I'm looking to save up money for the summer
Mario
- 26-Jul-23 @ 7:44 PM
Hi,my name is Mario,I'm 11 years old and I'm looking for a job to do with dog walking,I need the job because I want to save up money for the summer
Mario
- 26-Jul-23 @ 7:43 PM
Hi my nam is Harley I want to walk dogs with my friend Chris we are both 10 an experienced dog walking
Harley and chris
- 26-May-23 @ 11:51 PM
Hello, I am 11 years old and I would love to be aDog Walker! I have walked dogs all my life and been around animals all my life. I would never put your dog in any kind of danger and I am very responsible! I have my own pets and always look after them. I would love to also save money to get my own things and not always rely on my parents.
Rube
- 17-Apr-23 @ 9:24 PM
I love dogs but have to cats i want to walk dogs at age 13 now for a business and prices 5$ for 15 min 10$ for 30 15$ for 45 20$ for 1 hourname dog go trotters how about it? Am i old enough prices good? Reasonable? I myself am reliable and responsible 7th grade.
Lulu
- 17-Apr-23 @ 3:38 AM
Hi I'm Spencer I am looking forward to the summer and I want to have fun by making money I can. I'm struggling trying to find a dog walking job so if anyone can help that will be awesom
Spencer
- 22-May-21 @ 3:51 PM
Hi I am Leo , I'm 10 years old and I want to walk dogs because I really love dogs but I have not had a chance to get my own dog so I would love to spend time walking dogs and taking really good care of them. Plus I would like to save some money for the future in case I want to buy something at the shops
Leo
- 19-Jan-21 @ 11:05 PM
hi! my name is Ethan and I am 12 years old, I'm trying to find a dog walking Job near me that pay or a pet sitting job that pay and I am having trouble looking so if anyone could help please do!
ethan
- 8-Jan-21 @ 12:20 PM
Hiw old do you have to be for starting dog walking
Poppy
- 12-Dec-20 @ 9:44 AM
Hi I'm 13 years old I like dogs I'm trying to get a job. I will walk any dog any hour I i am always active
Diego
- 31-May-20 @ 2:43 AM
I am 11 and I have 1 dog I need to help my mom so we don't stress about the Bill's and us being homeless and we need a car so my mom can get to work and I need the money
Caris
- 2-Jan-20 @ 3:29 AM
I love to walk dogs I am11 and I have 2 and I need more I think you should let me bo some dog walking for you so jast let me now
Lilly
- 22-Nov-19 @ 3:49 PM
plz give me a job around bransholme would appreciate it thank you
kezzalover
- 28-Aug-19 @ 9:02 PM
I have a question I'm 12 year old in I was asking can I get job of walking a dog or baby sitting the dog because I just want a job.
Zyzy
- 25-Apr-18 @ 12:09 AM
Im desperate pleasegive me a job walking dogs
Kimbo
- 1-Aug-17 @ 5:30 PM
im 12 years old i would l;ike a jobfor walking dogs i would do any hours
charlotte barnes
- 28-Dec-13 @ 2:39 PM
hello i am charlotte barnes i am 12 years old and i am looking for a dog walking job in blackburn i am verry careing i have tow dogs my self and tow cats they are half traind i would like to start walking dogs give them time out i would do three hours of walking round parks and take them trisp to beaches near bye i will take full responsability foryour dogs and they will be under great amount of care
charlotte barnes
- 28-Dec-13 @ 2:36 PM
can you give my child a job like to walk dogs because she wants to get paid please can you do this for me?
Hannah Montana Banan
- 27-May-11 @ 9:11 PM