Making Your Bird Feel at Home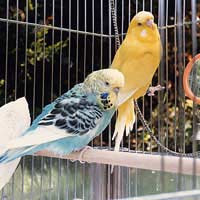 When scouting your house for the proper place for your bird's new home, keep in mind that anywhere with a window is a prime spot for the avian environment. Not only will this give your pet a bird's eye view of what's happening outside, which will provide many hours of entertainment, but most birds don't get enough natural light which helps them maintain healthy feathers and skin. If a window spot won't work, you may need to get additional UV lighting to maintain your pet's health.
Cages: Room to Stretch Their Wings
Buying a large enough cage to make your bird happy is going to impact your bird in a big way, so go for the biggest you can afford and have room for in your home. Large enough housing can be costly, it's true, but this is a one-time expense that makes such a difference in your bird's life, it's worthwhile to shell out for. Cages should always be at least big enough for your bird to stretch his wings and ideally your bird should be able to make short flights from within the cage. Do some research on the breed of your bird before buying, as this will make a difference in the length and height you'll need. For example, canaries do better in long cages that don't need to be that high, while for parrots height is an absolute must due to the length of their tails, among other things. A bird's tail should never brush the floor while sitting on their perch. Bars on your bird's cage should be spaced close enough together that your bird won't get his head stuck in the bars and have both horizontal and vertical bars for climbing and play. Avoid guillotine doors on cages as they have a tendency to fall shut and cause possible harm to your pet. A nice, roomy exit is what your pet desires and make sure you check the latches to ensure your bird can't lockpick, some birds are highly talented in this regard!
The cage should also have:
A removable bottom tray for cleaning
Wire floor so droppings fall through
Food and water dishes – plastic dishes are okay for smaller birds but the strong beaks of larger species will tear plastic to shreds so opt for stainless steel, glass or porcelain
Feeder slots for removal of dishes
A cage cover for bedtime
Toys
Bird bath or mister
Bedding
Nesting boxes for some species
Perches Are Paramount
Your bird spends a good part of every day standing on a perch, so choose your pet's perch carefully. Perches should be made of a material that's easy to grip and of a width that your bird can get hold in his feet without the claws touching. If there is any sliding around happening, either the material is too smooth or the perch is too large to grip properly. The material should also be comfortable on your pet's feet, if you see raw spots developing or skin rubbing off then something is wrong. Sandpaper perches that are supposed to trim your pet's nails often cause this problem. Natural wood perches are considered ideal as it gives your bird something to chew on as well, the uneven surface allows good grip and lets your pet rub his beak on it, something birds do to scrape off food bits. Other good perch materials are:
Plastic branches
Soft rubber tubing
Sisal
Cotton rope (untreated)
PVC that's been roughed to help with grip
Concrete or mineral perches as secondary seats but not as the main perch
Remember that your bird will defecate while sitting on his perch quite frequently, so keep food and water dishes above the perch, never under it.
Making Home Safe and Secure
A warm, comfortable, draft free environment is important for your pet, especially for tropical species. The cage should be situated away from air conditioners, heaters and other temperature control devices as drastic temperature changes aren't healthy for your bird. Avoid putting cages close to the kitchen as many cooking implements have non-stick coating that are toxic to birds. It's nice to put sprigs of greenery in your bird's cage to chew on, but make sure they are safe for your pet. If you have other pets in the house, be sure the cage is out of their reach.
And remember that your pet loves to gnaw, so be sure there is nothing in the cage that would be hazardous going down his maw. This means using untreated wood, uncoated wire and unpainted objects.
You might also like...