Making Your Small Animal Feel at Home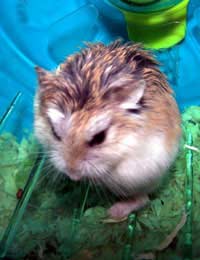 Your small animal will give you endless amounts of entertainment and delight, love and affection, fun and games. Putting some effort and thought into setting up a home that suits your pet's needs will give you a happier pet and a more enjoyable playmate to boot.
Cages
While glass aquariums and heavy plastic cages may look nice and provide a lot of visibility into your pet's home, they are hard to clean and even harder to ventilate. The best cages for airflow and cleaning are made of wire or stainless steel. The cage should have rounded corners to prevent pocket pets from gnawing and chewing on their housing structures. A solid bottomed floor with a nice, deep layer of bedding gives your pet a feeling of security. Removable plastic trays for flooring means that you also have an environment that is easy to clean out on a regular basis. Make sure the bars of the cage are not so far apart that your pet can squeeze through them; small animals are notorious escape artists.
Bedding
The bedding that lines the floor serves as a litter and a walking surface and should be the minimum depth of one inch. Sawdust, shredded paper, soil that's been treated and cleaned, wood shavings and corncob all make good bedding. You can put a layer of cat litter underneath to absorb urine and odours, but only if your pet doesn't dig down and check on it. Cedar, pine and anything scented are hazardous as bedding material, causing skin conditions and respiratory illness.
Sleeping Area
Small animals like to have a comfortable area to burrow into and go to sleep, a nesting box of some sort that is covered makes your pet feel safe and protected from sight and harm. Make sure there is a lot of nesting material so your pet can wiggle way down inside for a maximum cosy effect. Wood boxes are an excellent choice as they feel and smell more natural to your pet and can safely be chewed on as well. Old towels, cotton, shredded tissue paper and hay are all excellent nesting materials.
Food and Water Dishes
Pocket pets tend to like to try and climb inside their food dishes, tipping them over and spilling the contents everywhere. It's best to use something made of clay, stone, porcelain, pottery or heavy glass that is hard to tip over, with a wider bottom than top. Hayracks are another good way to feed pets, mounted on the side of the cage they allow your pet to pull their own food down. A water bottle with a sipper tube on it can be hung from the side of the cage; this is better than a water bowl as your pet can't tip it over or pollute it accidentally.
Something to Gnaw on
Small animals need to chew in order to keep their ever growing teeth in check, so this is a necessity to include in their home environment. Wood blocks, branches and chew sticks are all great, safe ways to satisfy the need to gnaw. If nesting boxes are made of wood with bark on it, this can also be a chewing alternative. Keep this need to gnaw in mind with any accessories you put in the cage as your pet may end up chewing on them so be aware of toxicities.
Accessories and Toys
Your pocket pet needs to be active, get exercise on a regular basis and have interesting terrain to explore in order to lead a happy life in a caged environment. Gerbils, hamsters, mice and rats are delighted by the addition of exercise wheels and things to climb on like bridges, ladders and branches. Rocks and bricks in the cage mean different textures and heights. Guinea pigs love mazes, runs and blocks. Obstacle courses, tubes and tunnels are popular with all the pocket pets. These can be easily and cheaply constructed out of PVC pipe, which is also a breeze to clean.
The more areas pets have to burrow into, climb onto and run through, the happier they will be. So get creative with your pet's home!
You might also like...