Setting Ground Rules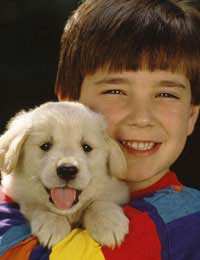 Ground rules are an important part of positive kid/pet interaction and are as much to keep your kids safe from bites and scratches as they are for the well being of your pet. Young children have a tendency to treat animals like stuffed toys without having an awareness of the pain and discomfort they may be causing their pets. Setting ground rules helps children to remember the needs of their pets and understand their animals have feelings, too.
Laying Groundwork for Ground Rules
Getting kids into the appropriate animal-empathetic mindset is what really helps to make pet ground rules stick. Introduce some videos, magazines, books and games into your kid's collection that show an animal viewpoint or encourage a feeling of respect towards the natural world. Have your child apologise to the pet when he or she accidentally steps on a tail or plays a little too rough. It might seem silly, but this will teach your child that they should be courteous to the pet, just as they would a person. Post up your child's pet ground rules in a visible spot in your home to help as an ongoing reminder about positive pet play.
7 Good Ground Rules for Pet Interactions
Running, jumping and fast, jerky movements around an animal can startle or frighten it. Sometimes they will bite because they are afraid. Keep your movements smooth, calm and slow and your pets will feel more comfortable and confident around you and prevent pets from being afraid.

Never pull an animal's tail, pull or pick it up by its ears, poke or hit your pet, blow in their face or whistle in their ears. Animals are very sensitive and can be easily hurt, so always be gentle with your pet.
An animal that is eating or sleeping should be left alone. Everyone deserves a little privacy during these times, and though kids might be excited to play with their pets right then and there, alone time needs to be respected. Have kids visualise how they would react if someone yanked their snack away and demanded they come and play a game, or shook them awake while they were in bed in the middle of the night to tell them about their day.
Screaming, shouting and yelling can be very scary for a pet. Many animals have very sensitive ears, loud noises and shrieks are often aggressive tactics on the parts of other animals so when you yell and shout, your pet thinks you are angry or want to do it harm. It can be tough to remember when you are excited to see your pet, but try and keep your voice calm and soothing.
Every animal has a certain way it likes to be touched and held. Learn the ways of your pet and handle up your pet in the way that's most comfortable for it.
Length and amount of playtime is not determined by kids, but by their pets. Sometimes animals can only handle a short amount of playtime, are not in the mood or change their minds about a play session. Let your animals decide whether they want to play and for how long, it's not fair to force them. It's alright to try and coax an animal into a play session by using toys, games or treats to try and get play started but if your pet isn't feeling up to it, let them walk away. Never chase an animal that's trying to end a play session or pull it out of a hiding spot, this will only cause your pet to fear you.
Your pet counts on you for food, water and a clean place to live. If you want to enjoy all other parts of your life with your pet, it's only fair you help out with the less the fun aspects, too. Set a cleaning and feeding schedule and do your best to stick to it. It's okay to ask your parents for help when you need it, but you need to try and do your best by your animal friends on your own whenever possible.
Kids may need reminders on a fairly constant basis at first, especially very young children, but having ground rules laid out sets out a good framework for respecting their pets and having empathy for the feelings of animals. After a time, this will become second nature to your child and will no longer have to refer to the ground rules of pet play.
You might also like...