Travelling With Pets and Kids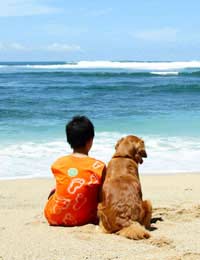 Travelling with pets and kids can be frustrating and confusing but with a little planning and preparation everything should run smoothly. Special documentation and equipment will likely be required to travel with pets, and indeed the method of transportation that you choose will likely have special requirements for animals. Don't let a little extra work keep you from enjoying your holidays, however. Call ahead, follow the rules and you should be ready for a holiday that will prove fun for the whole family – even the four legged members.
Transportation
The mode of transport you choose will present different requirements for travelling with pets and kids. Most private or rented cars will have few restrictions on the number of kids and pets that can travel with an adult. But, trains may well have restrictions about carrying animals and all airlines have strict regulations regarding the number of children and pets that can be carried with one adult. Most airlines also have rules about how animals can be carried, particularly if animals are going to be "accompanied baggage" and down in the cargo hold, and any countries you plan to visit with your pets will likely have restrictions on bringing pets as well.
To avoid any confusion on the day of your travel, contact any embassies for the countries you hope to visit before booking your tickets and then make it clear to the airline that you are hoping to book passage for your pet as well as your family. Do not be alarmed if you are questioned about the type or breed of your pet, your pet's age and your pet's medical history – these are all standard variables that may influence whether or not the airline will carry an animal. Both the embassy and the airline should provide you with a list of documents that you will need to bring for travelling with pets (and possibly kids), so be sure to follow these instructions to the letter. If you have any doubts regarding the types of container you should use, if you should tranquilize your pets, or if you need to provide any other type of equipment for the animal, check with your airline rather than show up unprepared. Most airlines will also post their regulations regarding animal travel on their websites.
Family Friendly Holidays
Bringing the whole family, including pets, on a holiday can be expensive so make sure that you get the most value for your money by thoroughly researching your destination before you make any bookings. Be particularly aware that your pets and kids will all have special needs that not every destination can meet. Think about:
If your desired accommodation allows pets and/or kids.
Where your pets will sleep or be "housed" in the accommodation.
If you can move a cot into your room for your child's use.
How you will feed your pet.
If your child has special nutritional needs that must be met.
If your destination has areas known to be family friendly and away from inappropriate content.
If your destination can provide areas for walking or otherwise exercising pets.
Travelling with pets and kids will be different for every family, but there are many steps that parents can take prior to departure to alleviate some of the stress. Checking in with all relevant authorities regarding their rules and regulations, and thoroughly researching an intended destination for family and pet friendly policies will both help avoid headaches, but even if a few do occur at least the whole family will be together to weather them.
You might also like...