Talking to Kids About Pet Responsibilities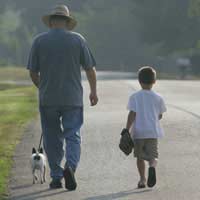 Sit down draw up a list of all the responsibilities involved in the care of your pet and talk with your children about what tasks they feel they can handle. It's better to give a child an easy daily pet responsibility than a difficult one that occurs less frequently. Always give a task that is well within a child's capabilities or feelings of frustration will taint the kid/pet relationship. You'll need to explain to your child exactly why the responsibility you've given them is important to the pet's well-being, what benefits their pets and the consequences to the pet if the task is not done.
What's Reasonable to Expect for What Age Group
Toddlers – Age 5
Help parents put food and water in pet dishes, though parents should still be the ones to actively give food to the animals especially in the case of dogs.
Clean and put away pet dishes.
Help put away pet toys and some minor cleaning up.
Help with brushing and grooming.
Age 5 – 10
Put food and water in dishes, still with parental supervision with dogs as they can become excited and bite when food is involved. All other pets can be fed unsupervised, though.
Heavier level of help with cleaning and maintenance of pet areas.
Grooming and possibly bathing, depending on pet's size.
Help with exercise and walking, depending on pet's size.
Cleaning up after a pet when it goes to the bathroom.
Ages 10 and up
At this age, all aspects of pet care can be responsibly assumed unless you have a very large dog. Your child should be taking on full care of cleaning pet's bathroom area, which will always be one of the hardest tasks to get a child to do.
Encouraging Kids for Responsible Behaviour
When you first get your family pet, praise your child every time a pet chore is performed without you having to ask to positively reinforce responsible behaviour. Try and reward your child in some way as well with a fun pet activity that brings feelings of love and connection with the pet. It's also best to praise and reward immediately after the task has been done for the strongest positive reinforcement. A great trick for younger children is to enthusiastically praise your child in a happy tone of voice to the pet while the child is in the room. This works especially well with dogs, which bounce around excitedly, thrilling your child further. As time goes on and your child becomes accustomed to the responsibilities about pet ownership, you can ease off the continuous praise but be sure to make a point of congratulations from time to time on being such a good pet owner.
When Kids Start to Lapse
Constant gentle reminders are the best way to get children under the age of about 12 to get in the practice of thinking responsibly. As frustrated as you may feel, don't make kids feel guilty about their inconsistent caring for the family pet. Most children are still perfecting the art forms of keeping routine and fulfilling responsibilities, too much criticism will simply instill feelings of failure in themselves or anger towards the innocent pet that unwittingly made the child a focus of complaint. This is unhealthy for both the child and the pet and rarely solves the problem.
If there are constant missed feedings or cage cleanings, sit down with your kid and help them to figure out what's not working and how it could be done more effectively. Sometimes making signs together and putting them on the door to your child's room and other noticeable places around the house can be a good reminder. Often, children may have started a new activity in school which leaves them less time or there is something in their lives which conflicts with pet care. If it can't be worked out during the week and you need to assume extra responsibilities for them, talk about having your child do additional pet chores on the weekend when there is more time to make up for it.
And remember, the best way to teach your children how to be responsible pet owners is to show them by setting a good example as one yourself. When you are having a busy day but still make time to walk the dog or brush the cat, draw your child's attention to this fact in a positive way. With any luck, kids start to pick up on what an excellent owner you are and take up the lead themselves.
You might also like...
what i just read is awesome its good information.
daniel martins
- 29-Aug-12 @ 1:28 PM