Dorothy Dog Kids Pet Care Puzzle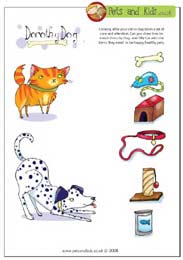 Looking after a pet takes a lot of care and attention.
Can you help Dorothy Dog and Tilly the Cat find the things they need to stay healthy and happy?
You'll need to think carefully about whether a cat or a dog would need the following things: a bone, a lead, a can of fish, a toy mouse, a kennel or a swing ball toy...
Draw lines to match Tilly and Dorothy to the right items.
Why not Download the Dorothy Dog Puzzle right now and see if you can help her out.
For Parents
This puzzle is aimed at 3 to 7 year olds and is a great way to help children learn about petcare whilst developing their recognition, matching and sorting skills.
We have many other puzzles in the Download section which can be reached from the sidebar on the left. All our printable puzzles are completely free and are great to keep on hand for kids to do while travelling, or as a creative rainy day activity.
All of our puzzles are supplied as a pdf so you'll need to have Adobe Acrobat installed on your system. If you haven't Google it and you'll find lots of places and instructions on how to get it.
You might also like...