Dorothy Dog Kids Maze Puzzle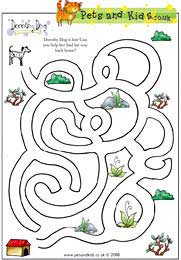 Oh deary me, Dorothy Dog went and got herself lost and really needs your help to find her way back home to her Kennel.
Can you see if you can guide her through the maze? She'll be really very happy if you can.
Download the Puzzle to Help Dorothy...
Why not Download the Dorothy Dog Puzzle right now and see if you can help her out.
For Parents
This puzzle is aimed at 4 to 7 year olds. We have many others in the Download section which can be reached from the sidebar on the left. All our printable puzzles are completely free and are great to keep on hand for kids to do while travelling
All of our puzzles are supplied as a pdf so you'll need to have Adobe Acrobat installed on your system. If you haven't Google it and you'll find lots of places and instructions on how to get it.
Related Articles in the 'Printable Puzzles' Category...