What to do when your dog dies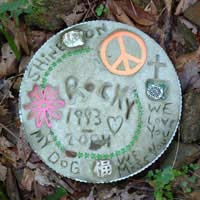 It is always sad when a much loved family dog dies. At this emotional time it is hard to decide what to do with the remains of your faithful friend, so make your plans now so it will be easier on you and the family when that inevitable time arrives.
Death
There are many ways that a parent can explain death to a child. Sometimes religious views are used and this can be a comfort to the parent as well as the child. The death of a family dog or other pet is often the first time a young child encounters death and can be the ideal opportunity to prepare the youngster for when they lose a grandparent or other family member. Some parents will explain about angels, heaven and a place where all the dogs go to when they are dead which softens the blow to the child. Children will often dwell on the subject of death and ask many questions. They will not only grieve as we would but because of their age will be unsure and bewildered by what has happened especially if the death was unexpected or perhaps observed by the child.
Preparations
Your vet will always dispose of the body of your pet if that is your wish. They can arrange for a cremation and return the ashes to you or simply take away the pet for disposal. Disposal of the pet's remains is done by either single or mass cremation and the ashes spread at the pet crematorium. You can also take your pet to the pet crematorium yourself. Simply ring ahead and book an appointment. Staff will be on hand to take the pet from your car and you are able to view the body, just as you would a human, before the cremation takes place. It is possible to wait for the ashes and you can purchase an urn or casket in which to keep your pet's remains at home. If you wish to spread the ashes then ask for a simpler box that can be disposed of afterwards. A common wish these days is for owners to have their pet's ashes buried with them when they die which can be a comforting thought to many people.
Garden Burial
If you have the space why not bury your pet in your garden? Remember to dig a deep hole and possibly put a large rock or paving slab on top afterwards in order to deter foxes. Your child will be able to say goodbye to their pet and even hold a simple funeral service by the grave where the family and in particular your child can say goodbye. It will give your child closure on a sad experience. The downside to a garden burial is that you are not able to take your pet with you if you should move home and this could be distressing to a child.
Animal Graveyard
Many pet crematoriums also have a pet funeral service where you can purchase a plot to bury your dog or pet. These graveyards are lovely places to visit where the headstones have such poignant messages and hold all sorts of pets from hamsters to alligators. They are administered with care by the owners and are regulated (as are the crematoriums) by the same rules as human resting places. It is known that some owners arrange to have their own ashes put in their pet's grave when their time comes.
Pet Insurance
Unfortunately most pet insurance policies do not cover the expense of cremation or burial of a pet. For a large dog a cremation can cost around three hundred pounds so it is worth having a funeral fund to hand in case of emergencies. If you have several elderly dogs death can be an expensive business and should be planned for in advance.
You might also like...