Alone Time for Your Pet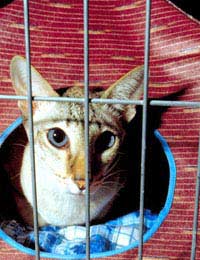 Every pet reaches a point where they've had enough interaction and the need for some alone time becomes pressing. Most adults can relate with this and give their pets the space they need. But children often have a hard time reading the signals their pets are trying to send to convey their need for alone time.
Why Helping Kids Understand is Important
Because animals can't vocalise their need to be left alone like people can, children often accidentally push the most tolerant of pets to the very limits of patience by chasing them down, forcibly petting them and cornering them without recognising their pet's urgent need for privacy. This is when the kid/pet relationship can become tense and when children run the highest risk of being bitten, scratched and otherwise injured. Nor is this fair to the hapless animal that's being harassed. Helping kids develop empathy for animals is in the best interest of children and pets alike, for the well being of your pet, the safety of your child and to increase kids' abilities to relate to others in a compassionate way.
Nurture Animal Empathy Through Media
Showing children films where animals have feelings, reading books from the perspective of the animal and subscribing to kids magazines about the animal world are excellent ways to nurture a sense of respect and empathy for pets in children. Since most young children can watch films and read books over and over again without becoming bored, this will continue to aid empathy development in your child. Doing fun activities like art, poster making and drawing in colouring books with animal themes, whilst talking to your kids about the feelings of pets are other good ways to positively reinforce the fact that animals have needs, too.
Explain Why Pets Need Alone Time
Once you've created a sense of animal empathy, then it's time to have a talk about why alone time is so essential to pets. Use whatever analogies you feel your kids can relate to, perhaps reminding them of a time where they were tired, grumpy and just wanted to be left alone. Ask them how they would have felt if you had, instead of letting them lie down for a nap, poked and teased them while they were feeling worn out. Showing kids that a pet has a space that's the equivalent of the child's room is an effective way to get them to identify with a pet's need for alone time.
Teach Kids to Read Animal Body Language
Every animal has signals they give out in their body language to show they've had enough and want to be left alone now. Describe to kids what signs of fear, frustration or concern are in their pet, point out the difference between relaxed, happy pet body language and the tense, tight body movements that happen when a pet is fed up. Each animal has certain techniques they use to warn of reaching their limits, rabbits will flatten their bodies to the ground and widen their eyes when worried, cats swish their tails rapidly back and forth when irritated, dogs pull their tails between their legs and hunch their spines when afraid. Once kids know what to look for, most will watch for and respect these signals. Again, explain this is for preventing injuries to your child as well as for the pet's welfare so kids understand what's at stake.
Make sure that your pet has a place to be alone where everyone in your family, kids and parents alike, will allow them privacy to rest and relax. This area should be somewhat den-like, cosy, quiet and allow the animal to be hidden from view. Giving your pet alone time is essential for a great relationship with your pet and will be greatly appreciated.
You might also like...