Introducing Kids to New Pets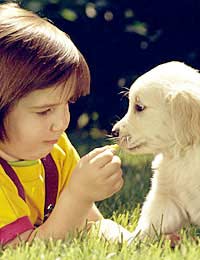 The first time a new pet enters your home is a very exciting one for kids and parents alike. It's very difficult to restrain kids from running up to their new furry, feathered or scaled friend and instantly embracing their new pet in a heartfelt hug. But new pets have just entered an unknown situation when they come home to you, so it's best to give them a little time.
Take It Slow
It seems unbearably hard to do, but give new pets some alone time to adjust to their environment, at least for a few hours when they first come home before meeting the family. Let caged pets explore their home completely before taking them out to pet, dogs and cats adjust best if they are given a room in the house with food, water, a bed and a bathroom area, then allowed to check out the area with the door closed and no one around. After they've had a chance to examine things and get comfortable, it's time to introduce kids to their new pets.
Keep It Calm
To make a positive first impression, take the time to explain to kids that pets are scared of loud noises, quick movements and raised voices. Tell them you realise how hard it is to contain their excitement but to try their best to stay calm, quiet and seated while meeting their pet for the first time so the animal is not afraid. Have your kids come into the pet's room and sit on the floor, with a few toys and treats in case the new pet adjusts quickly and feels like playing. Children should let pets come to them and sniff their hands and clothing to become used to the scent before attempting to touch the animal.
Proper Handling
Teach kids how to correctly hold and handle their animals before allowing them to pick pets up: nothing causes a negative feeling in a pet's mind towards a child like being dropped and hurt. Every animal likes to be held in a different way, rabbits don't enjoy being picked up and would rather be cradled in the child's lap, cats are uncomfortable with their bellies up until they know and trust their owners, small animals like guinea pigs, gerbils and hamsters like to be cupped gently in two hands. Make sure kids know the proper procedure to pick up their pet before allowing them to do it alone, show them a few times first to help them get the hang of it.
Food as a Friendly Gesture
All animals respond to the giving of food as an act of good intention and help to build trust between owners and pets. One of the best ways to start a bond between kids and their new pets is to have a treat ready to give as part of the first interaction. This is an excellent way to start forming a relationship between the two. Be sure that kids understand they can't always give an abundance of treats to their animals to form a bond as this will result in overweight, unhealthy pets. Treats are saved for special occasions like training, rewards for good behaviour and trust building situations like this.
Short and Positive Interactions
During the first weeks of your new pet's integration into your household, keep interactions between kids and pets short so that the new pet doesn't become overwhelmed. Watch for signs of irritation, fear or frustration and immediately end the visit if you see them manifest. All meetings between children and pets should be very positive and friendly so stop any chance of a pet mishap before it starts if at all possible. Have kids reward their pets after every playtime to leave a lingering pleasant impression in the animal's mind.
Never leave kids alone with new pets, especially young children and toddlers with dogs. Until kids are taught completely about how to behave around pets and until pets are fully trained to accept their new family members, this can be hazardous for both kids and pets.
You might also like...