Older vs. Younger Animals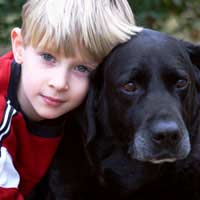 The idea of adopting an older pet may not even occur to many families. Children naturally tend to want a cute baby animal and many parents don't think to question this. After all the appealing picture of an adorable puppy or fluffy ball of kitten fur is hard to resist. Besides the obvious cuteness factor the advantage of having a young animal is that you get to raise and train it from scratch. But does your family have time for this lengthy process?
The Advantages of an Older Pet
For busy, two profession households or families who don't have a lot of extra time on their hands, housetraining and training a young animal may be more responsibility than they can handle. And no young animal is more work than a puppy. At the very least, an older dog will be housetrained. Housetraining a puppy is difficult if there isn't at someone home during the day to catch a dog in the act of making a mess and instantly rectify the situation. Reprimanding a dog hours and hours after an accident occurs loses its effectiveness as the puppy doesn't connect the act with the reprimand, even when shown the mess itself. Also, if you adopt an older, more sedate dog that is used to the family lifestyle, parents also don't have to go through the rigorous training process of teaching exuberant young dogs not to jump up, pull at the leash, bite or any of the other number of puppyish tactics that can inadvertently cause harm to young children. Of course, if the animal has been raised with bad habits, you'll have to do some re-training but older dogs generally have better attention spans than puppies and are fairly easy to retrain.
If your family has young children or toddlers who are still unaware of their own strength, a fragile baby animal can be easily harmed. An older animal has a stronger bone structure and a better idea of how to escape a perilous situation. Harming or even killing a pet accidentally is traumatic for all concerned and is to be avoided at all costs, so an older pet can be a good solution for families who long for a pet for their young children. Taking on an older pet from a family who has to move and is unable to care for their pet in the new living situation or from a shelter that has a good history of the animal's background means families also know what they are getting into with their animal. It is very hard to predict what a baby animal will grow up to be like, while an older animal has a well-established personality.
Cutting Costs and Saving Lives
A housetrained and obedience trained animal means no carpet cleaning bills or paying for obedience school. It means less likelihood of chewed up shoes and shredded furniture. Most of the time, an older animal has also been spayed or neutered and also given shots, saving money on vet bills. And even if this hasn't been done, most shelters will include this in the price of adoption. But the real value here is in the life that is changed when an older animal is adopted. Unfortunately, many animals end their lives in a shelter because no one wants to take in an older animal while adorable baby pets are snatched up. It's a very special feeling to know that you're not just taking an animal into your home, but also saving their life.
When Younger is Better
For small animals like gerbils, hamsters, mice and guinea pigs, it is strongly advised that you bring a younger animal into your household. Since these pets are 'prey' animals in the wild, the older they get, the less likely they are to form strong attachments to humans, become harder to tame and more likely to bite in defense. If unfamiliar to human touch by this point, from their perspective humans look like predators, towering over them with gigantic bodies and loud, booming voices so they have a much harder time trusting in us. Taming can be still be done; however, it is far more difficult.
You might also like...