Cat Responsibilities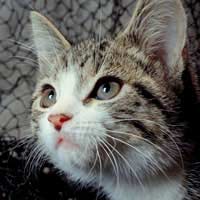 While it's true that cats and kittens are considered far lower maintenance pets than dogs and puppies, making them an easy care pet for kids and parents alike, there are still responsibilities to cat ownership. Here are some of the necessities that are essential for a feline's peace of mind.
Food and Water Bowls
Being a responsible cat owner means providing your pet with proper amounts of good, nutritious food that's stored properly and hasn't gone stale or rancid. Cats are carnivores so meat should be the first or second ingredient on the label. Check labels for amounts to feed and adjust based on your cat's leanness or obesity. Some cats only eat when they feel hungry and can be free fed, leaving a bowl of food to snack on throughout the day. Others are fed several small meals, which means you need to be home to feed your cat on a regular basis.
Water is essential to the health of your pet. Always be sure your cat has access to clean water, especially in the summer. Cleanliness of drinking water is as important to cats as litter hygiene, so the water bowl should be replenished with fresh water frequently, twice a day if possible. Filtered water is better than tap water for your pet and some cats develop allergies to plastic, or refuse to use metal bowls so glass and ceramics work best for dish choices. Cats also tend to like drinking out of wide, shallow bowls as opposed to deep ones.
Grooming and Flea Control
Most cats revel in the act of being groomed, the sensation is pleasurable and they enjoy the attention you're giving. Besides getting rid of nasty tangles, grooming your cat helps to reduce hairballs, helps you spot wounds, skin bumps and bites from fleas. The nagging itch of fleabites is not a fun thing; it's the human equivalent of being bitten by mosquitoes night and day. Combine a flea control program with weekly grooming of your feline friend and help your cat have a healthy coat and skin that's irritation free.
Vaccinations and Vet Care
It's the responsibility of pet owners to provide vet care for their pets when they need it. While skimping on the costs of vet visits and vaccinations can be tempting, neglecting vet duties may end up being far more costly in the long run, so be safe and responsible with your pet's health and get your cat the care that's needed. Kittens need their first vaccination shots and cats should be taken at least once a year for check ups and also to have any dental needs taken care of.
Play with Your Pet
Cats get bored just like people do, indoor-only cats in particular. Think about how you'd feel if you were stuck inside all day and night! Luckily, cats are far easier to keep entertained than people, it doesn't take much to turn a fed up feline into a frolicking frisky furball. Providing your pet with a few toys to play with (including items like paper bags, newspapers and boxes) and some one on one playtime with you each day to top things off will keep kittens captivated and cats content.
The (Dreaded) Litter Box Cleaning
Taking care of the litter box certainly wouldn't be rated anyone's favourite part of being a pet owner and often litter box cleanliness can suffer because of this. But cats are meticulous creatures who need to have cleanliness in order to be happy, especially when it comes to using their kitty toilets. With a nose far more developed than a human being, who can blame them? If you can smell the litter box, it's probably almost overpowering to your poor cat. If the litter box gets too dirty, your cat will start picking other spots to go to the bathroom that are cleaner, like on your carpet. So be a considerate owner and maintain your cat's litter box cleanliness.
Be sure to remember the most important cat responsibility of all: giving pets all the love and affection they deserve!
You might also like...
i am the care taker of my nearby area cats
ankita
- 23-Jul-20 @ 10:40 AM