Picking Up the Poo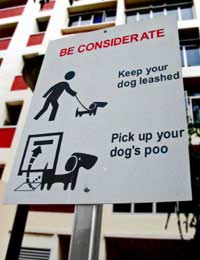 Let's just be honest here, poo patrol has got to be the least favourite duty of pet owners and is the chore that most often gets overlooked or put off when it shouldn't. But if you've ever stepped into a pile of poo in the park, walked into a dirty, stinky bathroom you had to plug your nose to use or discovered there was no toilet paper, you'll have empathy for how pets feel when they are stuck with a filthy litter box or bathroom area. You'll understand why this is the most important responsibility of pet owners and one we need to be vigilant about to have happy, healthy pets. For our pets are dependent on us to keep their toilet areas clean, making them wait on our whims is unfair and unhealthy for them. So bite the bullet, get in there and pick up the poo!
Doggy Doo
For kids, it's often embarrassing to be seen cleaning up after pets in public, especially by friends or other kids their age. They may be worried about getting teased for being on poo patrol. Talk to them about owners who walk away from their dog's messes and how this leads to parks and public places being turned into 'no dog' zones from too many complaints by people who get tired of stepping in dog poo. Mention the cost of fines for leaving a mess behind and also the possible humiliation of being yelled at in public by an irate watcher who catches them shirking their duty. Teach your children to be proud of being responsible pet owners and possibly influence someone else by setting a good example. Give them the words to convince their friends to do the same.
It's helpful to hang up the poo cleaning gear alongside the dog's leash so you remember to bring the necessaries on walks. There are 'pooper scoopers' to help clean up the mess, short handled and long handled versions so owners don't even have to bend down. Various kinds of commercial bags for waste disposal are sold in stores or you can just use household bags, anything plastic will work. Just be sure there aren't any holes…yuck!
Unloading the Litter Box
Fastidious felines who don't approve of how clean their litter boxes are kept will often search out a more hygienic toilet area, probably your carpet! Which is a pretty good incentive to keep the litter box from piling up. Clumping litter needs to be scooped out every few days and then completely changed, cleaned and filled with fresh litter every week to 3 weeks, depending on the type. An easy way to tell is by your sense of smell, if you're saying 'eww' then your cat is too. Standard litter needs to be changed more frequently as the bottom fills with wee fairly quickly and starts to smell. Remember to wash out the litter box regularly as well as simply changing the litter since the box itself will eventually start smelling bad to your kitty even if the litter is clean.
Cleaning Cages
Because the repercussions of a dirty cage are not the same as a full litter box or a public pooing that gets left behind, kids tend to put off cage cleaning until it's reached a point of noxious emanations intolerable to the human nose. Urine sitting in the bottom of a cage changes into ammonia after a time and can cause illness in animals. The poor inmates of the cage have to suffer and wait until something is done about their unhealthy living conditions and, unlike cats and dogs, they often have no other place to escape to. Help kids to understand how this feels by drawing up an affective analogy for them of filthiness that they can relate to and be moved by, then set up a cage cleaning schedule. Make it in large letters on a coloured piece of paper and put in a visible place by the cage as a reminder. Cage liners at the bottom of bird cages should be changed every few days, small animals or pocket pets can get by on a weekly cleaning as long as there aren't a lot of occupants in the cage. Litter needs to be thrown out, bedding washed or replaced and food dishes, toys and accessories should be washed. The cage itself should be soaped down and cleaned as well.
Be sure and give your kids a lot of praise and positive reinforcement for being responsible and picking up the poo, for this unpleasant chore is something some adults still struggle with maintaining!
You might also like...