Fun and Games With Your Pet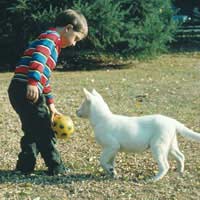 Playtime is a fun, rewarding way to bond with the animals whose lives you share. Pets with lots of playtime are more affectionate with their owners, live healthier lives as they get more exercise and blood circulation from running and jumping, and are stimulated as life can become very monotonous and boring for pets that are inside all day. So play with your pet, it's the best part of their day, guaranteed.
Canine Capers
Dogs and puppies delight in running, catching, chasing and fetch games. Since they are such pack orientated animals, spending time with you means being part of the team and is highly rewarding no matter what you play. Dogs live for play sessions and most will go all day long if you let them, so your schedule is probably the only thing that will limit the length of time you play together.
Treasure Hunt. Have your dog sit and stay while you hide a variety of toys or treats around the room, then release your pet from the stay. As your dog gets better at finding the items you hide, increase the difficulty.
Basket Ball. Get a basket and a ball, saying a command like 'drop' as you drop the ball into the basket. After a few times, bring your dog over to the basket with the ball in his mouth, then say drop. Give a treat every time the drop is made and soon your dog will get the idea.
Frisbee Fetch. Frisbee is the ideal dog game, with the durable, flexible surface of the Frisbee a perfect chew. Vary the game by taping tails onto the Frisbee to add a new look and catching sensation. This also encourages dogs that aren't the best jumpers to snatch the Frisbee out of the air by the tails.
Feline Fun
Since cats are built to be hunters, favoured games for kitties always incorporate some element of stalking, chasing, pouncing, wrestling or jumping. Cats and kittens have short attention spans so sessions should be about 15 minutes to half an hour. Make sure your cat occasionally gets to capture the toy or interest flags quicker.
Pounce Practice. Put your hand under a blanket, thick enough that sharp kitten or cat claws won't accidentally scratch you. Wriggle your hand around, making scratching noises with your fingers, go still, then move again. Cats will watch, fascinated, then start wagging their back ends back and forth as they get ready to pounce. Suddenly they'll spring upon your hand, wrestling and kicking with their back legs. Tickle their bellies with your fingers and drive them nuts!
The Cat Leap. Watch your cat go sailing through the air; some cats have an amazing ability to jump. Take a crumpled up piece of paper or other light toy and toss it over your cat's head. Start out throwing the toy up just a little, your cat will either bat it out of the air, get up on her hind legs and catch or (if you're lucky) she'll leap up in the air. If she's a leaper, keep going higher each time, you may be surprised at how high she can get. Some cats, especially obese or elderly ones, might not jump that far but all cats enjoy this game as it duplicates bird catching.
The Light Chase. Get a torch or other form of light source. Run it back and forth over the floor and up the wall, keeping it just in front of your cat. This game is sure to get your kitty playing like crazy, but be aware that you'll need to finish up with a 'real' toy so she's not frustrated.
Avian Antics
Birds are very social creatures and enjoy really interactive games with their owners. Play sessions with your bird should be an hour to an hour and half long for maximum benefit.
Dance Fever. Put on some music you like and show your bird some of your moves! Do more bounces and bobs, less arm waving as this can scare your pet. Your bird will quickly get into a groove with you.
Catch! Yes, birds like this game too. Play with a small, light object a bird can handle like a wiffle ball.
Gonna Getcha. Chase with your bird with your hand scuttling along like a spider. When you catch them, tickle their tummies, chest or lightly grab their beaks.
Pocket Pet Play
Small animals enjoy having games set up for them they can play on their own, in their cage or during playtime with you. They love mazes, obstacle courses and toilet roll tunnels. Hamsters, gerbils, rats and mice like to climb and dig, guinea pigs love to run races through complex labyrinths and rabbits like to push with their noses and toss toys around, so incorporate these elements into game time.
You might also like...