Showing Kids How to Play With Pets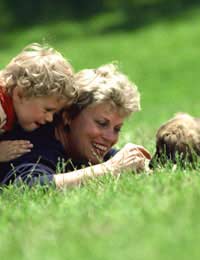 Kids and pets are a wonderful mix but it doesn't come naturally for most children. A child needs to be taught about how to be respectful and kind to animals, not treat them like toys. Parents who can show their kids how to play with pets will have children who enjoy a happier, safer relationship with their animals.
You Are the Best Teacher
Kids learn best by watching what you do with your pet, having things explained to them in a way they can relate to and then being guided through the process the first few times. Until you feel like your child completely has the hang of pet play, make sure playtime is always under supervision. This helps prevent accidents and injuries and is especially important in the case of younger children and toddlers. Before introducing kids to playing with pets, take the time to be sure they fully understand the dos and don'ts of pet playtime. Having children role play with you, with kids playing the part of the pet, is an excellent way to get the point across. You can also use stuffed animals as a way to do a 'dress rehearsal' for the playtime with pets.
When Kids Get Excited
Younger children and toddlers are prone to high-pitched voices, squealing, jumping around, jerky movements and shrieks of delight when they get excited about something. And playing with an animal can be very exciting, indeed! But pets can startle easily, misinterpreting the child's behaviour as threatening. As the pet becomes afraid, playtime is suddenly over. Parents should help kids work on keeping voices low and calm, gestures slow and smooth and keep jumping to a minimum. With dogs and puppies this is particularly important as the overwrought canine could accidentally bite the child.
Rough Stuff
One of the most common mistakes kids make is playing too roughly with their pets. Not only can this lead to your pets being harmed, it's also a cause of kids getting bitten or scratched in self-defence by the disgruntled or wounded pet. Whether it's a dog being aggressive after a toy is yanked away abruptly, a cat who scratches when her tail is pulled or a small animal who scrambles to get away when held too tightly, kicking and biting in fear, these incidents are easily preventable. Gentleness is the key to positive animal interactions.
Good Playtime Activities for Kids and Pets:
Ball tossing
Frisbee throwing
String chasing
Maze building for pocket pets
Games with treats to reinforce positive pet behaviour
Activities That Can Be Harmful
Wrestling
Anything involving pulling a toy away from a pet
Holding animals against their will
Games with elements of intense teasing and too much animal frustration
Teaching Kids How to Calm Their Pets
Young kids have a hard time learning to pet gently and soothingly to calm their pets down, tending to use short, hard pats rather than long, smooth strokes that reassure. Have your child watch while you lightly give the animal some gentle affection, stroking their backs and rubbing their chests. Try and keep things simple and stay away from the mouth area for now to prevent kids from being bitten. Next, show your child the amount of pressure you used on their arm or leg, and have them do a few 'test pets' on you first. When you feel they are ready, guide their hands on their pets bodies, letting them know to stroke downwards but not upwards as this rubs the fur the wrong way and aggravates the animal.
Try, Try Again
If the play session isn't going well, end it quickly and without scolding either the kids or pets involved, you don't want to leave either with a negative feeling about the session. Instead, praise your child for trying while gently pointing out what could have been done differently. Wait a few days before attempting to have another playtime.
You might also like...