Which Toys For Which Pet?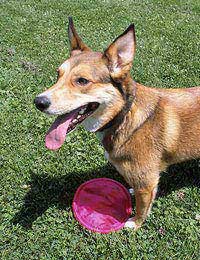 The kinds of playthings and toys that your pet will have the most fun with are the ones that suit your animal's nature. Different breeds of dog will respond more strongly to various types of toys based on whether they are working or sporting breeds, while small animals like guinea pigs, rabbits and hamsters relish a toy they can really sink their teeth into because of their urge to gnaw. Always pick toys that work with the characteristics your pet possesses and you can't go wrong.
Dog Delights
Some dogs love to chew and gnaw endlessly, while others are incessant toy retrievers. There are dogs that love anything that makes noise and dogs that only get inspired by tasty treat toys. It's a rare dog that doesn't love a good ball throwing session, though, so that's a safe place to start.
Frisbees are a favourite for almost every breed of dog
Balls, balls, balls!!!
Ball launchers and throwers
Squeaky toys
Toys you can stuff treats or smaller toys inside
Plush animals
Bones and chew toys
Rope braids for tug games
Many pet stores allow owners to bring dogs in with them, so browse around and see what catches your pet's eye. This is a delightful experience for kids and pets alike!
Cat Contraptions
Cats are hunters by nature, so the most favoured playthings of kitties involve some element of hunting. You can see the different types of animals that cats hunt by the way your kitten or cat plays. Batting things out of the air relates to bird hunting, pouncing and stalking mimics small rodent catching, scooping things up in paws and batting them around simulates fish catching and gripping, wrestling and kicking are methods cats use for mid size prey like rabbits. Here are some feline toy top picks:
Fishing rod toys
Wiggling ropes and strings
Scratching posts
Plastic rings
Plastic balls
Little bits of paper and scraps of stuff to scoop up in their paws and chase.
Stuffed mice and small plush toys
Light and laser toys
The good old paper bag or cardboard box
Catnip toys
Cats react differently to catnip; it puts some into a kitten-like state of play and others straight to sleep! But no matter what effects, catnip is not harmful, addictive or dangerous to cats so by all means try some catnip toys out on your kitty.
Bird Baubles
Birds respond well to toys that are brightly coloured and love things that jingle or make musical noises. Many bird toys look very much like something you'd give a baby or toddler to play with! Birds also love to climb, perch and dangle from their beaks so they should always have access to some toys that allow them to do this as well.
Light balls for catch, like wiffle balls
Swings
Mirrors
Hanging braids
Large rings
Hanging paper towel rolls (after they are empty)
Climbing ropes
Undyed feather duster
Wooden spools
Remember that birds have strong beaks so never put toys into the bird's cage that have parts that can be torn off and swallowed, causing choking hazards. Birds are also very sensitive to chemicals, which is why brightly coloured plastic toys work well, but toys with too much synthetic dye in them can make your bird sick.
Pocket Pet Playthings
Because of the constantly growing incisors that rodents and rabbits possess, toys that can be chewed on are a hot item to rabbits, guinea pigs, hamsters, gerbils, rats and mice. They also love to dig, burrow, and push things around.
Ramps
Sock stuffed with hay (guinea pigs and rabbits)
Ladders for climbing (hamsters)
Empty toilet paper rolls
Sticks for chewing (make sure it's a safe wood to chew, willow is good)
PVC pipe tunnels and mazes
Wooden toys
Exercise wheels
Switch up the toys on a regular basis, hiding favourites for a while and then bring them out again to encourage a new flare-up of interest for your pet.
You might also like...