Dogs as Pets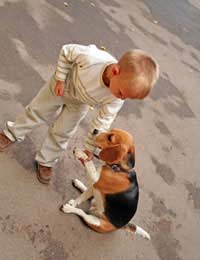 The devoted dog is a physically affectionate, outdoor-loving animal with an abundance of energy and a need for regular routines. Once their loyalty is won, they love completely and unselfishly, a truly rewarding pet relationship. Dogs are pack animals, not solitary creatures, and their mentality is based on this so they require a good deal of social time, training and strong leadership. They work well with families that have active, energetic children who love to endlessly play and are willing to give a lot of time and attention to their pets.
Lifespan: 8-15 years
Level of Responsibility: High
Messiness Factor: High
Estimated Yearly Cost: High
The Benefits
Few things on this earth can make a person feel as well loved as that warm, melting look your affectionate canine companion gives you. Protective, intelligent, sensitive and alert to the emotional states of others, a dog has the ability to be an excellent guardian and companion for your child. The multitude of stories about dogs saving lives and other acts of canine bravery clearly shows what remarkable animals they can be. Dogs are exceptional confidence builders for kids as well. Children with dogs in their lives tend to be more active and physically fit as well as being more social, independent, emotionally well adjusted and less selfish towards the needs of others. Playing with a dog in the park or at the beach is a wonderful way for kids to make new friends; few other pets have that same mobility and ability to be taken out in public.
The Downside
Mess. Noise. Daily walks. Vet bills. These issues are the inescapable facts of life when you are a dog owner. Dogs are costly, high maintenance animals that require tons of love, understanding and just plain work. And though children may promise with utmost sincerity to take on all the responsibilities of the family pet, in most cases it is very difficult for kids to fulfill that commitment one hundred percent of the time. Also, younger children need to be supervised with most aspects of dog care so parents basically need to be ready to accept responsibility for another member of the family that is dependent on them. So if the thought of walking, feeding and cleaning up after an animal on a daily basis seems like a bigger commitment than you are prepared for, another type of pet is probably your best bet. Training is also essential otherwise dogs can become uncontrollable and even a safety issue for 'lesser' family members (such as your child) if perceived as lower on the scale of authority as they are heavily influenced by pack order and dominance.
Newborns- Age 5
This is not the most ideal combination but can be worked out, depending on the age and temperament of the dog and the energy levels of the parents. A puppy and a baby together require an exceptional amount of attention and could be too taxing to handle. At this age, it's quite easy for a puppy to harm the baby accidentally by being overly enthusiastic. A toddler, on the other hand, is likely to hurt a puppy by the same inability to understand their strength and tend to squeeze and pet too hard. It's best to pair up a dog over 6 months old with a child at this age.
Age 5- 10
This is a good time in your child's life to get a dog or a puppy, although the onus of dog care will still rest mostly on your shoulders. Kids take great delight in helping out with pet chores and learn some valuable lessons about responsibility through caring for the family dog. With proper training, dogs and children alike can benefit greatly from this experience.
Age 10 and up
Fully capable of being (almost) entirely responsible for all aspects of pet care, this is the best time for kids to get a dog. Children can now walk the dog without supervision, clean up after their pets and enjoy countless hours of playtime outdoors. The energy level of kids and dogs at this age is a perfect match.
You might also like...