Where to Buy Your Pet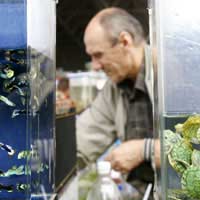 You've decided you want a new pet, but where should you start looking? There are a lot of choices out there so here are some guidelines on some good places to find your furry, feathered or scaled friend and what to watch out for in the world of pet purchasing.
Breeders
Whether you are looking to purchase a mixed or purebred pet with a pedigree, a breeder can be a great source to start with. But distinguishing between a good and bad breeder is essential for the health and mental well-being of your future pet.
A good breeder will want to ask you as many questions about the environment you'll be bringing your pet into and your knowledge of pet care as you'll want to ask them about the pet itself. If they care for their animals then they will be concerned about what kind of home you will be providing for them. If you are feeling at all pushed into purchasing, or your questions are being avoided, it is time to look elsewhere. A good breeder will also be willing to guarantee that they will take the animal back at any time if you are not satisfied or are having problems.
If you are purchasing a pet with a pedigree, some of the questions you may want to ask are these:
How long have you been breeding for?
What information is available on the sire and dam, grandsire and granddam?
Can you tell me about the good and bad traits of past breeding with them and other pairings?
How many different kinds of animal are you currently breeding?
Are you a member of a breed club?
Can I talk to other people you've sold this breed to for reference?
If a breeder is reluctant or angry at any of these questions, warning bells should be going off. Be particularly careful to ask how many breeds they are working with. One of the marks of a breeder for profit rather than quality is to try and toss off as many different types of animal as possible without regard to their health. These breeders will often have advertisements for a wide variety of pets in the paper, on the internet and on community boards.
Pet Shops
It's good to be wary when purchasing from a pet shop. Many stores purchase animals from 'puppy mills' and other places where the health and welfare of the animal comes second. This is undesirable for both the well-being and mental state of your future pet and also because it is encouraging this practice. A proper, well run pet shop should have good housing and proper care for their animals, never overcrowded conditions. A crowded cage is not only inhumane; it also leads to health problems and quick disease transmission among the inhabitants. Even if the animal you are interested in looks healthy, if any other occupants are looking less than fit the chances are your pet will have caught something as well. The employees should be able to answer your questions, or at the very least give you advice about where to find out information.
Shelters
Every city has at least one shelter, usually more as there is, unfortunately, an abundance of unwanted pets in the world. When you get a pet from a shelter, you are doing a community service as well as benefiting yourself and your family. Most shelters can give you at least some information about the animal you are interested in, but many pets show up as strays and only their behaviour can be commented on as opposed to their health. Also, be aware that if an animal has been at a shelter for a long time, there may be behavioural side effects, especially in the case of dogs. A dog that has been in a shelter longer than 5 months can't help but be a little altered by its confinement.
Advertisements
This can be an excellent spot to find a good family who are trying to find homes for the babies of a healthy, well-loved pet. This is a good resource for free pets as well, whose owners need to move or are unable to care for their animals. This is also where unscrupulous breeders advertise their wares. So once again, ask questions. Any reluctance to answer, or hesitation means you should be looking elsewhere.
So question, question, question and you'll be bringing home the best pet possible for years of healthy, happy family companionship.
You might also like...