Encouraging Kids to Help Clean Up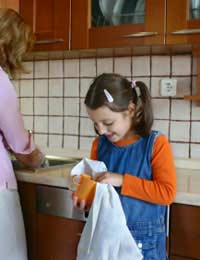 Your child or children begged and pleaded to have a pet, assuring you repeatedly that they would take care of it and be completely responsible. For the first few weeks, everything went well. But you've found that the responsibility for cleaning up after the animal has fallen onto your shoulders as their initial enthusiasm has dulled a bit with familiarity. Don't feel bad, it's the story of almost every parent of kids with pets. So take heart, here are some ways to encourage your kids to help clean up.
Why is Cleaning up Important?
Are your kids aware of why cleaning up is so important to the pet? Think carefully, you may have talked to them about doing the chores but not about what consequences there are to the animal's health and welfare if they are not done. Association with what would happen to their health, not to mention the smell, if the bathroom was left filthy by you, will drive the point home (and get some good hearty giggles going as well) so they understand what their pet is feeling in a dirty environment. Empathy can play a big part in having kids contribute to the clean up.
Let's Get Visual
Have your child make a chart with you, covering all of the aspects of cleaning up that come with the care of your pet. If your child is young enough, turn the chart making session into a fun art project, decorating it and making it as eye catching as possible. This will serve two purposes, putting a positive impression of pet clean up in your child's mind and creating something that will easily catch your child's attention while at home. Part of the problem of keeping up pet care is that children forget easily about their responsibilities and need reminders that don't involve you always having to tell them. After the chart is made, tell the child that a sticker, gold star, or whatever visual aid you want will be put on the chart every time they clean up after their pet. Decide on a reward at 10 stars, 20 stars, 30 stars, etc and let them know what they will be working towards to provide incentive. You can even have them draw these rewards onto the chart itself! Getting books or videos on the subject of pet care and cleaning up can also be very effective.
Work with Kids Schedules
Often, cleaning up after pets gets put aside for piano practice, play time with friends and homework. Sit down and make a schedule together about when clean up can happen, have the child think about how long each one takes and then write down times beside each one. Keep the days and times you've set for each week on as regular a basis as possible to help your child remember and get in the practice of clean up. For example, if Sunday afternoon is always the time to clean the gerbil cage, it will stick better in kid's minds than changing chore times on a weekly basis.
Always Make a Point to Praise
Any time that kids do clean up on their own, without you having to ask, let them know how proud and pleased you are. Tell them what it means to you and what kind of benefits their pets get from what they've done. Try and do something fun with them and their pet as a reward, or give them a treat that's linked somehow to the pet to reinforce the sense of pleasure they have from helping their pet.
If there is something your child wants to do or acquire, you can work out an agreement where a certain number of weeks of performing pet clean up tasks without being asked will result in getting what they want. This teaches cause and effect, but make sure you both agree that if your child backslides, the privilege may be suspended or taken away.
You might also like...
Kk what if your the kid? Im 12 and I just cant be botherd-_- help !!!! I have do it all alone its hard to throw the litter away (i use newspaper) and its disgusting also that because of the water bottle all the poops are wet n stick -_-
Sadie xx
- 9-Apr-12 @ 10:09 PM